At Prospus, we help businesses streamline their operations through inventive digital products. We're a technology company that specializes in web, mobile, and product development, as well as DevOps, IT consulting, and more. Since 2011, we've been working with organizations of all sizes across various industries all over the world. We are focused on delivering smartly engineered and affordable solutions to our clients.
We recently received a review on Clutch that demonstrates our excellence in development across a variety of devices!
Clutch is the leading B2B reviews and ratings website. Headquartered in Washington, DC., they aim to connect businesses with the best agencies for their B2B needs. Their team of analysts collects clients' feedback, analyzes industry data, and compares competitors in the market to provide entrepreneurs and managers with the information they need.
The review came from one of our long-term clients who recently started a new venture aimed at bringing experiential technologies into trade shows. They hired us to conceptualize, build, deliver and support an interactive asset the client could use for marketing purposes at tradeshows. The app's cloud-hosted backend CMS featured easy-to-use customizable options that could be interacted with at every resolution, from small handheld devices, to massive human-size screens in use at shows.
First, our client provided the wireframes and we discussed the application's design requirements. After carefully considering all of the development options, we sought and received the client's approval. We then proceeded with the development, which was conducted in various stages. The application provided touchscreen capabilities and unique capabilities for rotating featured content live for viewers to interact with.
Our client was delighted with the end result and because of our application, had one of the most visited booths at the Dubai-based tradeshow! Our client praised our communication skills and ability to translate a foggy idea into a full-blown interactive digital experience. "We worked together to solve every problem we encountered," said our client, who wishes to remain anonymous until he has fully launched their product into market. "I'm happy that we could brainstorm together to ensure nothing was missed", our client said. Further adding, "Prospus is a good collaborative partner, and I look forward to a long relationship with them as our company grows".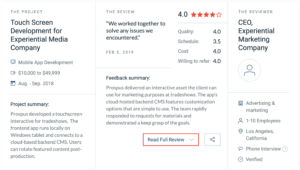 Similarly, we also received a review from Investible, an investment company. They hired us to develop an app that would allow users to understand their business and motivations. The app included 12 complex tools that increased overall functionality. We delivered the app on time and within budget, and it received positive feedback from users. The client praised our project management skills and responsive approach. Because of the success of our partnership, the client gave us perfect five-star ratings across all metrics!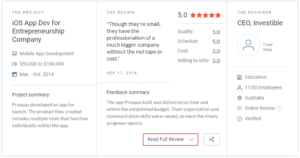 In addition, the Manifest recognized our work and named us a Top Field Operations App Developer in Delhi! Clutch's sister website, the Manifest is a business news and how-to platform that analyzes and compiles industry data. The platform serves as a guide for business companies in helping them find the best service provider for their needs. That said, we're proud to be featured as a leading agency on the Manifest!
We thank Innovation Protocol, Investible, and all our clients who took the time to give us a review. We appreciate their thorough and unfiltered feedback about our work. Their positive reviews validate our team's hard work, as it affirms our excellence as an IT development agency. We look forward to reading more reviews on Clutch!
Do you have any projects in mind? Contact us today, and let's discuss how we can work together to reach your goals!