At Prospus, we help businesses streamline their operations through inventive digital products. We're a technology company that specializes in web, mobile, and product development, as well as DevOps, IT consulting, and more. Since 2011, we've been working with organizations of all sizes across various industries all over the world. We are focused on delivering smartly engineered and affordable solutions to our clients.
We recently received a review on Clutch that demonstrates our excellence in web development!
Clutch is the leading B2B reviews and ratings website. Headquartered in Washington, DC., they aim to connect businesses with the best agencies for their B2B needs. Their team of analysts collects clients' feedback, analyzes industry data, and compares competitors in the market to provide entrepreneurs and managers with the information they need.
The review came from Investible, a Sydney, Australia-based startup accelerator run by well-known investor and entrepreneur, Creel Price. They hired us to transform Price's visionary business development tools into a functional, multi-device business platform for entrepreneurs. The platform included 12 unique digital tools aimed at eliciting entrepreneurial proclivities to assisting in funding-related questions. Put together, the tools form the basis of an ambitious platform for entrepreneurs that Price has been conceptualizing for over a decade.
The client and their customer were both delighted with the website and apps that we built! The site made use of the latest JS-based frameworks for an enhanced user experience. The apps were built in the native languages and received glowing reviews in design, portability, and usability by the client and focus groups alike. The client praised our project management and communication skills. "Though they're small, they have the professionalism of a much bigger company without the red tape or cost," remarked Price. Due to the success of our project, the client gave us perfect five-star ratings across all metrics!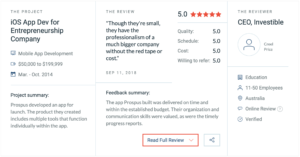 Similarly, we also received a review from VesselWise, an ambitious, fully-funded startup aiming to reorganize the marine industry. They hired us to develop a website and app-companion that would bring together all the actors involved in the manufacturing, retailing, maintenance, and ownership of yachts. The app included integrated chat, project management, and workflow, while the website provided exhaustive administrative functions to help manufacturers, retailers, and owners fine-tune the tool for their own needs. We delivered the app on time and within budget, and it received positive feedback from users, and interest from several large investors within the industry. Because of the success of our partnership, the client gave us perfect five-star ratings across all metrics!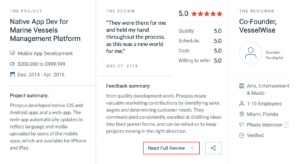 In addition, the Manifest recognized our work and named us a Top Field Operations App Developer in Delhi! Clutch's sister website, the Manifest is a business news and how-to platform that analyzes and compiles industry data. The platform serves as a guide for business companies in helping them find the best service provider for their needs. That said, we're proud to be featured as a leading agency on the Manifest!
We thank Innovation Protocol, Investible, and all our clients who took the time to give us a review. We appreciate their thorough and unfiltered feedback about our work. Their positive reviews validate our team's hard work, as it affirms our excellence as an IT development agency. We look forward to reading more reviews on Clutch!
Do you have any projects in mind? Contact us today, and let's discuss how we can work together to reach your goals!