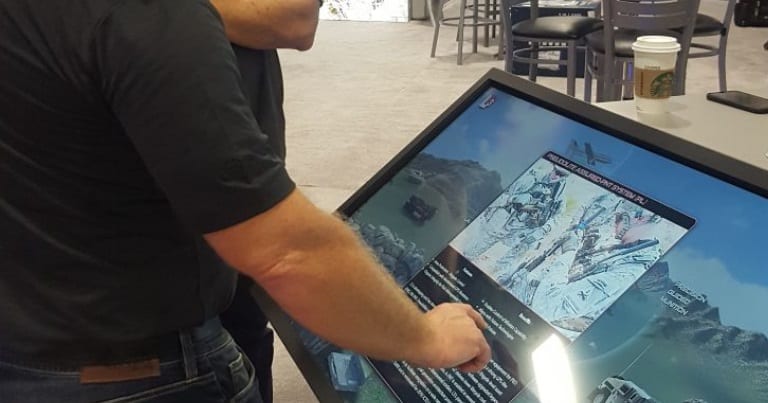 Prospus is excited to announce that our technology is making a splash at the largest Army trade show in North America. Since 1950, the Association of the United States Army (AUSA) has endeavored to enhance national security while advancing the interests of the men and women who serve in America's Army. Over 70 years, the AUSA's trade shows have attracted millions of Army personnel, contractors, civilian leaders and politicians, domestic and foreign buyers and sellers, and regular supporters. At this year's show in Washington DC, which starts tomorrow, October 8, visitors will be treated to an immersive, three-dimensional digital environment where they can see the power of missile launchers, squad tools, advanced drones, and other lethal new tools built by a world-renowned weapons manufacturer. Centrally located on the show floor, the interactive fighting scenarios will be shown on multiple giant touch screen displays running a sophisticated new product built by Prospus.
We learned about this project earlier this year from a referral from one of our satisfied clients. The product aimed to redefine the way companies tell the stories of their products and services, offering stimulating visuals, fully interactive environments, embedded content to facilitate the educational process, and features such as advanced timelines and even viewer personalization. As established game developers, the founders of the company knew their way around tech, but just hadn't found the right team to help them launch their product. But after an introduction, the Prospus team found common ground with the founders and offered them a value proposition no other company had before. Whereas all other firms suggested the heavy Unity platform, Prospus realized that the application was suitable for lighter-weight, more cost-effective Web frameworks using WebGL and technologies such as Fabric and React. Prospus even delivered it as a full desktop application using the powerful Electron framework.
Though the show doesn't officially start until tomorrow, the app has received positive early reviews. Lines of curious onlookers have formed around the touch displays to experience the interactive story-line vividly displayed on the pedestal and wall-mounted displays. With six screens simultaneously running the app in one of the larger exhibits in the show, we are pleased to see that our efforts are showing early success. Though the Prospus support team is standing by for feedback and urgent requests, the app administrators are able to fully control and modify it remotely without even being at the show. We look forward to sharing updates about the product and founder behind it as he grows his company. In the meantime, congratulations to both teams for working together on a tight timeline and delivering such a great product!